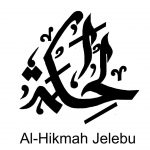 International Institute Of Higher Islamic Studies For Boys
OUR MADRASAH
Through the grace and kindness of Allah Ta'ala, Established January 2005 in Subang Jaya, Selangor. After 11 memorable years, Madrasah Al-Hikmah migrated to Jelebu, Negeri Sembilan.
Officiated by the then Qadi of Jelebu, Ustaz Mohd Nazri bin Abu Zarim on 12 March 2016.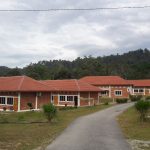 Registered with the Islamic Department of the Negeri Sembilan.
JHEAINS School Registration Number: 41 – 171 / 2018
JAKIM School Code: NZ0001
May Allah accept the Madrasah and continue to grace it with His Mercy and Assistance, Amin!
TEACHERS AND STUDENTS
Presently (2020), we are 13 teaching staffs and 2 non-teaching staffs, 130 students (teacher-student ratio is approximately 1:10). All teaching staffs led by Ustaz Muhammad Tirmizi bin Sulaiman (MUDIR) are graduates trained by scholars of various Islamic institutions in South Africa and other countries. The teaching staffs also received appointment to teach (tauliah) from the department of Mufti Negeri Sembilan.
ALIM COURSE
The Alim Course is a course tailored for the preservation of Islamic legacy, value and practice.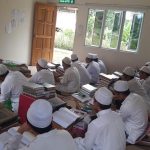 The course's vision is to produce scholars who are able to guide and lead the future. The course is conducted in classroom environment with practical application in school premises. Students are boarded in with a current enrollment of approximately a hundred students.
Admission Requirement (for both local and international students)
Ideal starting age: between 16 and 19
Only full time student can enroll
Passed the interview session
Two levels of the Alim Course 
Foundation in Arabic and Islamic Studies (3 years)
Ijazah in Islamic Studies (4 year)
1. Foundation In Arabic And Islamic Studies 
Program Duration : 3 years (Level: Alim 1, Alim 2 & Alim 3)
Program Requirement
Able to recite the Quran (Preferably a Hafiz of Quran with Shahadah)
Able to communicate in English OR Bahasa Malaysia
Able to read English OR Bahasa Malaysia
Objectives
To ensure students:
understand the basic requirements of being Muslims;
comfortable with language skills of both Arabic and English; and
prepared to undertake Islamic Studies on an academic level
Learning Outcomes
With the permission of Allah ta'ala, students should be able to:
behave as well-mannered Muslim citizens
comfortably read with comprehension basic Arabic and English texts; and
explain the basic aspects of Islam such as Fiqh and Islamic values.
2. Ijazah in Islamic Studies (4 years) 
Program Duration : 4 years (Level: Alim 4 until Alim 7)
Program Requirement
Foundation in Arabic and Islamic Studies  OR
Certificate equivalent to it in content and credit hours.
Objectives
To produce students who:
master the Islamic teachings in theory and practice from its original source;
are exposed to the basic law and culture of the country;
possess problem solving skill with regard to spiritual, legal and social issues;
get the exposure to practical skills of education and administration;
fulfill the professional needs in any organizations or society; and
adhere to the professional ethics and moral obligations.
Learning Outcomes
With the permission of Allah ta'ala, students will be able to:
improve knowledge and skills to preserve, develop and transmit the legacy of the Prophets to the next generation;
explain and apply the spirit of Shariah and its boundaries in resolving current problems;
explain the present structure of administration in the country and how does Shariah view it;
use the right research methods to produce research concerning Islamic sciences;
handle Islamic institutions such as masjid and madrasah with accountability;
function in various disciplines of the Shariah using various resources and technology by applying teamwork and good leadership; and
communicate with interested parties and colleagues effectively and ethically.
TAHFIZ COURSE
Qualifications For Tahfiz Course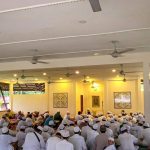 Minimum age to start the course: 13 year
Able to read the Quran fluently
Has at least some knowledge of Tajwid and Fiqh
Only full time student can enroll
Three Levels Of Tahfiz Course
1. Nazirah
Objective: To make sure the student is able to read Quran correctly with tajwid. (Approx. 3 to 6 months)
2. Tahfiz
Objective: To enable student to commit the entire thirty Juzu' to memory. (Approx. 3 years)
3. Shahadah
Objective: To make sure that the student is able to read the entire Quran correctly by heart to qualified teachers. (Approx. 6 months to 1 year)
HOLIDAYS
General Weekend
In Madrasah Al Hikmah, the weekend is Sunday only.
On Sunday, parents are allowed to visit their children at Madrasah premise only.
Students are allowed to go out with their own parents between Asar and 7 pm on Sunday.
No one is allowed to take anyone else's child out for any weekend or holiday.
Weekend Off
Monday to Saturdayare official study days in Madrasah Al Hikmah.
Weekend Off is a long weekend where a Saturday is added to the Sunday break.
Weekend Off begins on Friday after Jumaah prayer and ends on Sunday before 7.00pm.
Weekend Off is fixed and stipulated by the Madrasah as stated on the academic calendar.
How To Go Home For Weekend Off?
Only parents are allowed to take the students home for Weekend Off.
If parents permit their children to leave for the weekend with anyone else then the Madrasah should be informed.
Students are not allowed to go home during other weekends.
Students should be back in Madrasah from Weekend Off by Sunday before Maghrib (7:00 pm).  
Long Holidays
Parents or relatives MUST collect report cards and sign out for the student before long holidays.
If the parents cannot come on the appointed time, then please contact us to inform the time the parents can come or the parents cannot come and the students should take a public transport.
Expenses for public transport are on the student.
Public transport should be arranged by madrasah through VM Students Affair.
Staying Back During Long Holidays
Students who reside at the madrasah during a long holiday are bound by the rules and regulation of the madrasah.
Permission should be sought from VM Student Affairs to leave and enter the premise.
Leaving/entering the premise during a long holiday should be recorded in the register provided at the surau.
Outsiders are not permitted to sign out students nor spend the night at Madrasah without permission from the VM Students Affair.
FINANCIAL REQUIREMENT
Registration Fee : RM   500/= (For new application only)
Annual Fee : RM 6,000/= (Can be paid in 12 x monthly installment of RM500)
Please note:
The annual fee covers tuition, food and boarding.
If the annual fee is paid in monthly installment, please remember that the fee should be paid even in long holiday like the Ramadhan break.
The RM 500 is due on thefirst day of every month. However, it is highly appreciated that the annual fee be settled before November.
Foreign students are required to pay 6 months advance study fee.
Visa (for foreign student)
RM 1,000/= for first visa application. The immigration usually gives 6 months visa for first visa application.
RM    300/= for extension. The immigration usually gives 1 year visa for each extension.
Text books 
Differs from one class to another. Hafiz students do not require any text book. Books for First year Alim students cost about RM350/= (Price of text books for 2018 intake)
Contribution:
The Annual Fee does not fully cover the operating cost of the Madrasah. Parents and stakeholders are encouraged to contribute to the welfare of the Madrasah. Contribution in forms of zakat and optional charity are accepted.
Kindly note, the zakat is for the deserving students who cannot afford the Madrasah fees. If any parents cannot afford the fees, or any part thereof, please inform the principal. We appeal to one and all to pray for us and assist us in this noble work of uplifting the Word of Allah. In the past, many have assisted with donation in cash and kind. We trust that you will continue doing so in the future too.
CONTACT AND ADDRESS
Madrasah Al Hikmah Jelebu
(Alim And Tahfiz Course For Boys)
Jalan Batu 20 Kampung Renal,
71600 Kuala Klawang,
Jelebu, Negeri Sembilan.
Tel: +60102027907 (Phone/SMS/Whatsapp)
Email: alhikmahsj786@gmail.com
Office hours
7.30 AM – 12.00 PM
2.30 PM – 4.30 PM
BANK ACCOUNT MADRASAH AL HIKMAH
Payment should be deposited in the following account.
Account name    : MAH SJ Resources
Bank name         : Maybank
Acc. Number      : 562227328324
Bank Address      : No. C8-C10, Jalan SS15/4D, 47500 Subang Jaya, Selangor Darul Ehsan, Malaysia.
Swift Code         : MBBEMYKL
Recipient email    : firdaussamsul@gmail.com
Important:
– If payment is made via Cash Deposit Machine (CDM),please email copy of payment slip to Maulana Firdaus: firdaussamsul@gmail.com or 010-2027907
– If payment is made via Bank Transfer, the recipient email is firdaussamsul@gmail.com